HOME > DEPARTMENTS
Police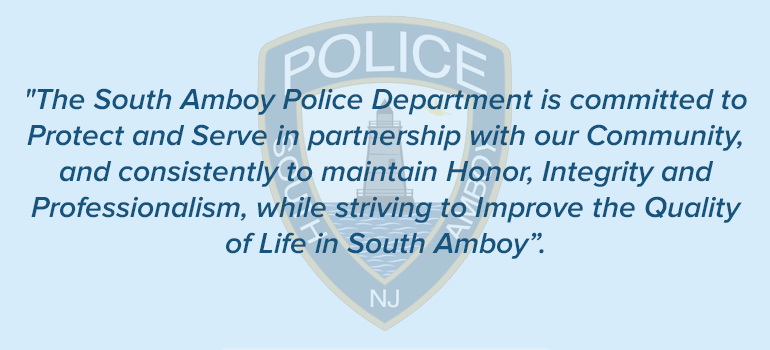 Traffic Safety Division
The Traffic Division is Responsible for investigating motor vehicle crashes that occur throughout South Amboy, including all serious and fatal crashes, as well as reviewing all traffic crash reports.  They also take appropriate action in enforcing traffic laws and city ordinances.  Traffic Safety is also responsible for the deployment of the department's radar and traffic monitoring trailer.   They also coordinate with state and local officials for special events and road work that will have an impact on the traffic in South Amboy.  Safe driving campaigns and County traffic meetings are the responsibility of the Department as well.  Inquiries about handicapped parking permits and spaces are made through the traffic division along with city council approval.
Detective Bureau
The Detective Bureau is responsible for follow up investigations to crimes and more serious offenses.  They also conduct surveillance, interviews, interrogations, and their own investigations.  All collection and processing of evidence is done by the Detective Bureau.  Megan's Law registration is handled by the them as well.  All gun permit applications are handled through the Detective Bureau. Applicants wishing to apply for firearms ID cards and handgun permits will have to complete the S.T.S 033 form online at https://www.njportal.com/NJSP/FARS before making any appointments with the Detective Bureau. The South Amboy Police Department's ORI is NJ0122000 when completing the online form. There is a fee of $5 for a firearms ID card and a fee of $2 for each permit to purchase a handgun.
Records Department
The Records Department handles all requests by civilians to pick up copies of reports.  They also handle all discovery requests by attorneys and requests by the county prosecutor's office for reports and statements.  They do all the required reporting for the Uniform Crime Report statistics.  Reports are given out on Tuesdays, Wednesdays and Thursdays from 8:30 am until 4 pm.  There is a nominal fee for each report that is required during pick up.
Additional Information and Links:
Unused prescription medication – You can drop off your unused prescription medication anonymously – 24 hours a day – 365 days a year at the drop box located in the lobby of the Police Station.  All medication is collected, sealed, and then brought to an incinerator.  Examples of items that are permitted to be dropped off at the container are: pills, capsules, patches and pet medication.  Items that are not permitted to be dropped off are: mail, trash, syringes and liquids.  More information can be found at the following link:
Lost Power? – You can report a power outage to JCP&L at the following link:
Street Light Out?  - If there is a street light out it can be directly reported to JCP&L at the following link: