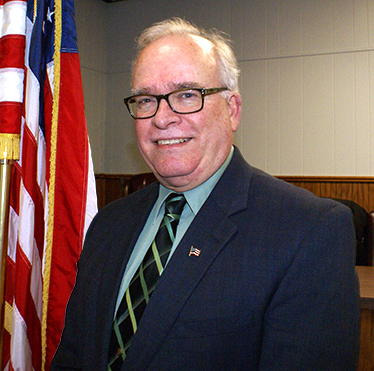 HOME > ELECTED OFFICIALS
Mayor Fred Henry
About the Mayor
Born (1950) and raised in South Amboy Son of Ann Henry and the late Fred Henry, Sr. (former Councilman-at-Large). of South Amboy Married (2000) to Linda MacKay Henry, a retired South Amboy Elementary School teacher.  Resides at 304 Main St.   3 children: Kristen (born 1977) graduated Hoffman High School and Rutgers University Erin (born 1980) graduated South Amboy High School and Rutgers University Fred III (born 1986) graduated South Amboy High School and William Paterson University.
Education:
Graduated (1973) Trenton State College with a BA in social studies and English
Graduated (1970) Middlesex County College with an AA in Liberal Arts
Graduated (1968) St. Marys High School, South Amboy
Attended Rutgers University and Kean College for additional courses in English and history
Attended Rutgers University for courses related to redevelopment (Ethics and Principles of Redevelopment)
Work experience:
South Amboy High School: Dean of Students (2006 to 2015)   Retired as of June 2015  
H.G. Hoffman/South Amboy High School: social studies and English teacher (1982-2006)
South Amboy Middle School: English and social studies teacher (1982)
St. Marys, South Amboy Elementary School: social studies teacher (1974-1981)
South Amboy Recreation Department (1980-1983) Assisted with Babe Ruth League, soccer, and basketball programs
Raritan River Railroad: maintenance of track (1973-1974)
Athletic Director at H.G. Hoffman/South Amboy High School (1986-1999) Coached varsity baseball at St. Marys and Hoffman, varsity girls basketball and  softball at South Amboy and intramural golf Currently coaching varsity boys and girls cross country at South Amboy High School
Miscellaneous:
1991 Named to Mayor's Educational Advisory Committee
1992 Named to Board of Education ad hoc committee concerning the overcrowding of the South Amboy school system. Helped to devise the revolutionary concept of a community school which integrated the public school with community services.
South Amboy City Government:
1992 appointed as Councilman-at-Large
1993 elected in a special election as Councilman-at-Large
1994, 1998, 2002, 2006 elected as Councilman-at-Large
1993 to 2001 elected as Vice-president of the city council
2002 to 2003 elected as President of the city council
2004 to 2005 elected as Vice-president of the city council
2006 to present elected as President of the city council
1996 to 2006 served as council representative to the Redevelopment Agency and elected as Vice-chairman and then as Chairman of the Agency.
2010 elected as Mayor of the City of South Amboy; reelected Mayor in 2014 & in 2018