HOME > DEPARTMENTS
Mayor's Blog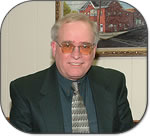 South Amboy Arts
Congratulations to Synergy Studios on their 1st Annual South Amboy Short Film Show held on Saturday night at the Broadway Arts Gallery.  The event was well attended and very entertaining!  Please check the South Amboy web site or contact [email protected] for additional programs which will be produced in the future.
****
NJ State Firemen's Association Wildwood Convention
Congratulations to the South Amboy Fire Department and First Aid Squad for their excellent showings in Wildwood this weekend.  They again showed why South Amboy has the best volunteers in the state!  Their professionalism makes South Amboy proud.  It was also my distinct honor to accept flowers on behalf of the Celecki family in remembrance of Gerald "Bear" Celecki who passed away in the line of duty.  The memorial ceremony was a great tribute to him and the other firefighters who passed in the line of duty.  I would like to thank all of our first responders for their contributions in keeping the citizens of South Amboy safe.  Your service does not go unnoticed. Thank you.
****
NJ Transit Raritan River Bridge Replacement Project
On Tuesday, September 27, 2016 NJ Transit will hold an information session about the Raritan River Bridge Replacement Project.  It will be from 4:00 pm to 7:00 pm at the City of South Amboy, City Hall Council Chambers.  It will provide the public opportunities to obtain information, become more knowledgeable, and ask questions about the project.
****
9/11
Thank you to the South Amboy American Legion for the very moving ceremony at the Waterfront Park honoring those who died in the terrorist attack on September 11, 2001.  And thank you to all those who attended and remembered the sacrifice of so many on that terrible day.
****
Forget-Me-Not Historical Society brunch
This Saturday, January 16th, the Historical Society of  South Amboy will  host the "Forget-Me-Not" brunch honoring our veterans.  Reenactors from the Revolutionary War, Civil War, World War I and II, and the Gulf War will make presentations about their respective topics.  The event will begin at 10:00 with the serving of brunch.  A donation of $5 is requested but any veteran donating a photo of himself/herself in  uniform will get in free!  Come to the Senior Center on Stevens Ave. and join the fun.
****
2016
Wishing everyone a very happy, healthy, and safe New Year.
****
Eugene "Hack" Szeszko
Condolances go out to the family of Hack Szeszko who passed away recently.  He was a former city council member and First Aid Squad member.  I would like to thank him for his service to his country (he served in the army during the Korean War) and his city.